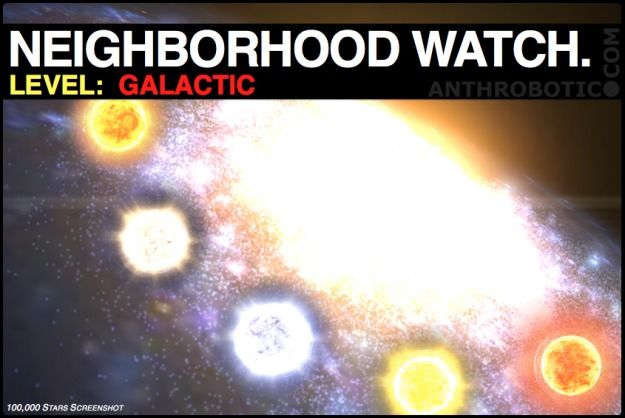 The 100,000 Stars Google Chrome Galactic Visualization Experiment Thingy
So, Google has these things called Chrome Experiments, and they like, you know, do that. 100,000 Stars, their latest, simulates our immediate galactic zip code and provides detailed information on many of the massive nuclear fireballs nearby.
It's humbling, beautiful, and awesome. Now, is 100, 000 Stars perfectly accurate and practical for anything other than having something pretty to look at and explore and educate and remind us of the enormity of our quaint little galaxy among the likely 170 billion others? Well, no — not really. But if you really feel the need to evaluate it that way, you are a unimaginative jerk and your life is without joy and awe and hope and wonder and you probably have irritable bowel syndrome. Deservedly.
The New Innovation Paradigm Kinda Revisited

Just about exactly one year ago technosnark cudgel Anthrobotic.com was rapping about the changing innovation paradigm in large-scale technological development. There's chastisement for Neil deGrasse Tyson and others who, paraphrasically (totally a word), have declared that private companies won't take big risks, won't do bold stuff, won't push the boundaries of scientific exploration because of bottom lines and restrictive boards and such. But new business entities like Google, SpaceX, Virgin Galactic, & Planetary Resources are kind of steadily proving this wrong.
Google in particular, a company whose U.S. ad revenue now eclipses all other ad-based business combined, does a load of search-unrelated, interesting little and not so little research. Their mad scientists have churned out innovative, if sometimes impractical projects like Wave, Lively, and Sketchup. There's the mysterious Project X, rumored to be filled with robots and space elevators and probably endless lollipops as well. There's Project Glass, the self-driving cars, and they have also just launched Ingress, a global augmented reality game.
In contemporary America, this is what cutting-edge, massively well-funded pure science is beginning to look like, and it's commendable. So, in lieu of an national flag, would we be okay with a SpaceX visitor center on the moon? Come on, really — a flag is just a logo anyway!
Let's hope Google keeps not being evil.
[VIA PC MAG]
[100,000 STARS ANNOUNCEMENT — CHROME BLOG]
(this post originally published at www.anthrobotic.com)