The Fermi Paradox poses an age-old question: With light and radio waves skipping across the galaxy, why has there never been any convincing evidence of other life in the universe—or at least another sufficiently advanced civilization that uses radio? After all, evidence of intelligent life requires only that some species modulates a beacon (intentionally or unintentionally) in a fashion that is unlikely to be caused by natural phenomena.
The Fermi Paradox has always fascinated me, perhaps because SETI spokesperson, Carl Sagan was my astronomy professor at Cornell and—coincidentally—Sagan and Stephen Spielberg dedicated a SETI radio telescope at Oak Ridge Observatory around the time that I moved from Ithaca to New England. It's a 5 minute drive from my new home. In effect, two public personalities followed me to Massachusetts.
What is SETI?
In November of 1984, SETI was chartered as a non-profit corporation with a single goal. In seeking to answer to the question "Are we alone?" it fuels the Drake equation by persuading radio telescopes to devote time to the search for extraterrestrial life and establishing an organized and systematic approach to partitioning, prioritizing, gathering and mining signal data.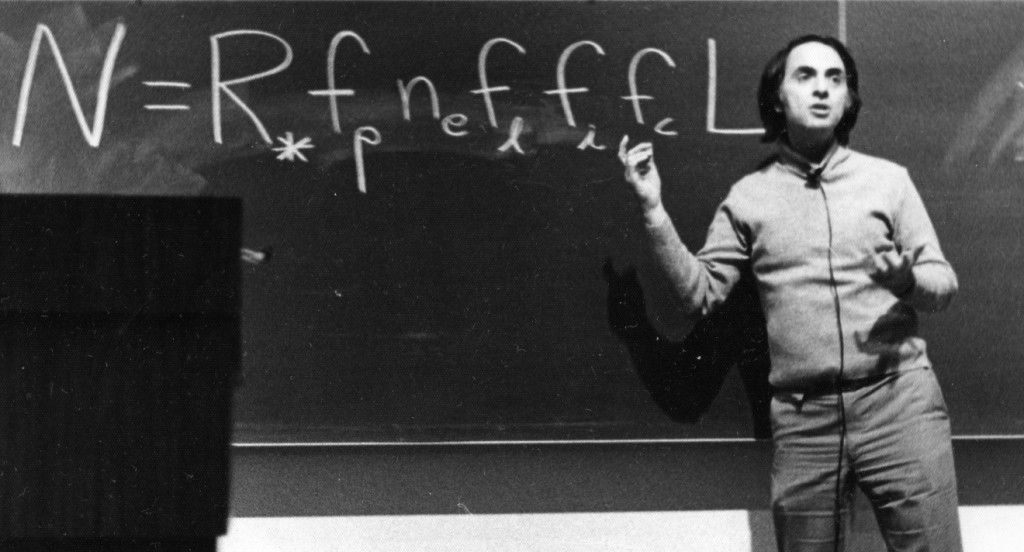 Many of us associate astronomer Carl Sagan and Hollywood director, Stephen Spielberg, with SETI. They greased the path with high-profile PR that attracted interest, funding and radio-telescope partnerships. But, they were neither founders nor among the early staff. The founders, John Billingham and Barney Oliver assembled a powerhouse board of trustees, which included Frank Drake (Sagan's boss at Cornell), Andrew Fraknol, Roger Heyns and William Welch. Among first hires were Jill Tarter, Charles Seeger, Ivan Linscott, Tom Pierson and Elyse Murray (now Elyse Pierson). Of course, Carl Sagan was advocated for the search for extraterrestrial intelligence, and he joined SETI as Trustee near the end of his life.
In The Birth of SETI, Tom Pierson reminisces about the early days of SETI. Also check out SETI pioneer, Jill Tarter, explaining how to write a message that will be understood by an alien civilization.
There is a lot of lore and love surrounding SETI, because its goal pulls directly on our need to understand our place in the cosmos. This week, SETI is going through a bit of transformation as it prepares for the next chapter in the search. So, where are the aliens? Are the funds and brainpower spent on peeping for aliens an investment in our own civilization, a form of entertainment, or a colossal waste?
This fascinating video offers 10 plausible solutions to Fermi Paradox. Fascinating, that is, if you can get past John Michael Godier's dry, monotone narration. But. take my word for it. The concept and the content is exciting.