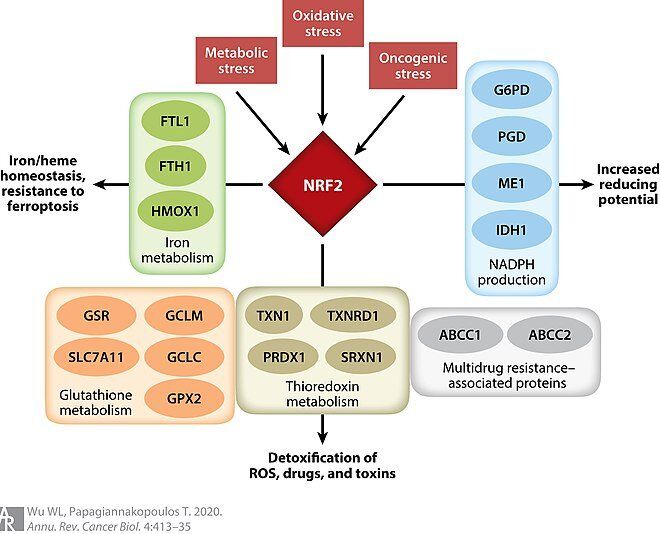 NRF2 is just one of thousands of critical proteins in the cell, but it is one that we now know a lot about. Once any molecule achieves a certain level of celebrity status, it tends to acquire a groupie following in the supplement market. Today, we have all manner of NRF enhancers, releasers, activators and synergizers ready to arrive on your doorstep at the click of a button. But what could any of these things possibly do for us, and how much is too much of a good thing?
At the risk of overstating the obvious, if a little extra NRF2 is good for every cell in your body, and every cell in your body is good, then NRF2 must be good for your body. The weak link in that argument, however, is that all cells are not good. Nobody wants harmful bacterial cells to flourish, and nobody wants cancer cells to flourish. A paper recently published in Nature now suggests that inhibiting NRF2 can block the migration and invasion of non-small-cell lung cancer cells through the body. If anyone is going to derive benefit from NRF2, they may need to be smart about it.
The main reason NRF2, or Nuclear factor-erythroid 2-related factor 2, is so highly sought, is because it is a key transcriptional regulator of several antioxidant and anti-inflammatory enzymes. Unfortunately, as the authors above have revealed, it also moonlights as an activator of the Rho-ROCK pathway, which promotes actin filamentation and movement of cells. The researchers were able to block this activity of NRF2 by giving an inhibitor known as brusatol.