The recent SpaceX Raptor engine was actually a real breakthrough. It was a holy grail desired by NASA and the Soviet Union. The Soviet Union almost had it, but when we landed on the Moon they stopped development. The engine is a "full-flow staged combustion" engine.
"Full-flow staged combustion (FFSC) is a twin-shaft staged combustion cycle that uses both oxidizer-rich and fuel-rich preburners. The cycle allows full flow of both propellants through the turbines; hence the name The fuel turbopump is driven by the fuel-rich preburner, and the oxidizer turbopump is driven by the oxidizer-rich preburner"
---
Followers of the Church of Elon will no doubt already be aware of SpaceX's latest technical triumph: the test firing of the first full-scale Raptor engine. Of course, it was hardly a secret. As he often does, Elon has been "leaking" behind the scenes information, pictures, and even video of the event on his Twitter account. Combined with the relative transparency of SpaceX to begin with, this gives us an exceptionally clear look at how literal rocket science is performed at the Hawthorne, California based company.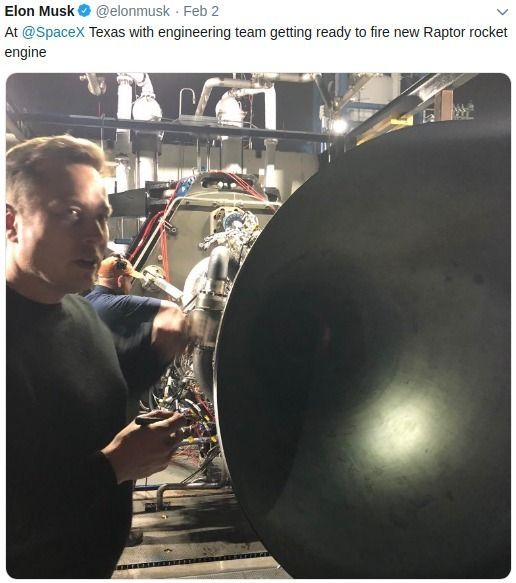 This openness has been a key part of SpaceX's popularity on the Internet (that, and the big rockets), but its been especially illuminating in regards to the Raptor. The technology behind this next generation engine, known as "full-flow staged combustion" has for decades been considered all but impossible by the traditional aerospace players. Despite extensive research into the technology by the Soviet Union and the United States, no engine utilizing this complex combustion system has even been flown. Yet, just six years after Elon announced SpaceX was designing the Raptor, they've completed their first flight-ready engine.
The full-flow staged combustion engine is often considered the "Holy Grail" of rocketry, as it promises to extract the most possible energy from its liquid propellants. In a field where every ounce is important, being able to squeeze even a few percent more thrust out of the vehicle is worth fighting for. Especially if, like SpaceX, you're planning on putting these new full-flow engines into the world's largest operational booster rocket and spacecraft.
Read more