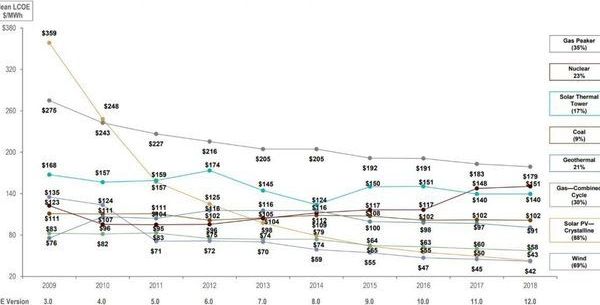 A new report reveals 42% of global coal capacity is currently unprofitable, and the United States could save $78 billion by closing coal-fired power plants in line with the Paris Climate Accord's climate goals. This industry-disrupting trend comes down to dollars and cents, as the cost of renewable energy dips below fossil fuel generation.
Across the U.S., renewable energy is beating coal on cost: The price to build new wind and solar has fallen below the cost of running existing coal-fired power plants in Red and Blue states. For example, Colorado's Xcel will retire 660 megawatts (MW) of coal capacity ahead of schedule in favor of renewable sources and battery storage, and reduce costs in the process. Midwestern utility MidAmerican will be the first utility to reach 100% renewable energy by 2020 without increasing customer rates, and Indiana's NIPSCO will replace 1.8 gigawatts (GW) of coal with wind and solar.
Lazard's annual Levelized Cost of Energy (LCOE) analysis reports solar photovoltaic (PV) and wind costs have dropped an extraordinary 88% and 69% since 2009, respectively. Meanwhile, coal and nuclear costs have increased by 9% and 23%, respectively. Even without accounting for current subsidies, renewable energy costs can be considerably lower than the marginal cost of conventional energy technologies.
Read more