Two pivotal conferences on the topic of "death" coming up!!
First at the INSERM Liliane Bettencourt School on March 16–18 will be "Death: From Cells to Societies — Aging, Dying, and Beyond" -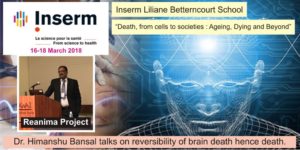 Then, April 11–13 at Harvard Medical School, will be "Defining Death: Organ transplantation and the 50-year legacy of the Harvard report on brain death"
http://bioethics.hms.harvard.edu/annual-bioethics-conference-2018
An important inflection point for all!!